Welcome back to myself. I haven't posted anything in over a week, when I promised myself I would post at least weekly. I am blaming it on the heat. Since our central air is broken, we only have an a/c in one room and it is not the computer room. I have pretty much been camping out in the living room and avoiding all other rooms. That's my excuse.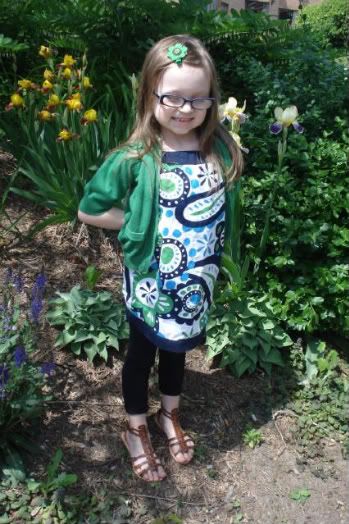 Taken in front of the newly bloomed flowers on our walk through town.
As for what we have been up to, we have reached lesson 140 in The Ordinary Parents Guide. I have decided I would stop new lessons at this point and just do review for the next little while. I have been checking out a lot of I Read, You Read books from the library and they have become a large part of our phonics lessons.
In Spelling Workout we have finished lesson 21 this week. My goal is to finish book A by the end of summer so that she may start book B when our Gr.1 officially begins. We may have to do 2 lessons a few of the weeks to be able to accomplish this goal though.
Math focused on basic addition, skip counting and telling time to the half hour on an analog clock this week. She is getting better at trying to tell what time it is, and I find that she periodically will announce the time throughout the day. She tries especially hard if a commercial tells her that one of her favorite shows will be on a certain time.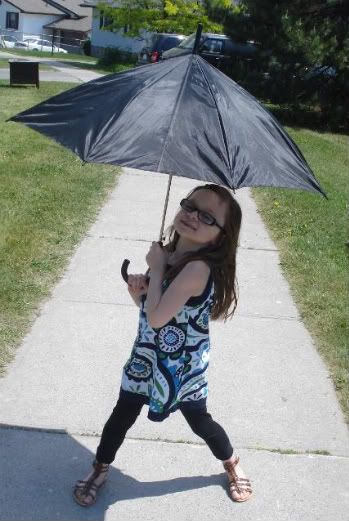 It was supposed to rain that day, but chose to be incredibly hot instead. The umbrella became a handy sun blocker.
For Geography we worked on Europe and Africa. Where they are located, some important facts and how to find them on a globe. She knows Italy is shaped like a boot and uses that as her reference for finding it's location. In French we have been working on colours and review of past lessons. I am finding that we are spending 2 weeks to cover a new concept. I do not move onto anything new until she is quite familiar with what has been taught. She is really enjoying it though which makes me happy because I would like her to reach fluency in a second language as an end goal.
Art class was cancelled this week, but last week she made a painting. Next week is the last class, so she is going to be sad over the summer because she really enjoys it. For September she falls into the next age group, so classes are longer and more independent of parents.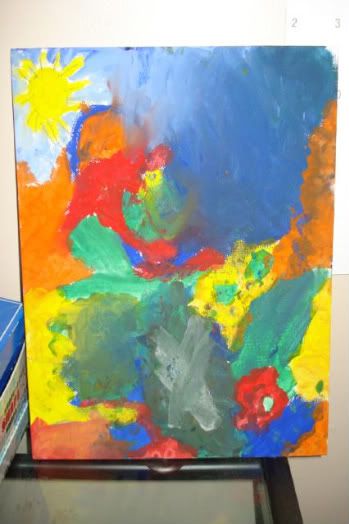 She is still working on a name for this painting.
I have been trying to figure out next years game plan for the last few months. When I think I may be onto something I find myself over thinking and changing things yet again. I have the curriculum that I want, I just find myself leaning more towards the Latin Centered Curriculum concept vs. The Well Trained Mind. I don't know though, because for me personally history is a huge part of my life and so very important for education. So if I do go more LCC I will still have to try to integrate a larger focus on history than once a week. I hate stress:( These pictures made me laugh though. Yet again some pictures she took of herself that I found on my camera when I uploaded pictures. She's obviously not very camera shy:)