Have you ever had one of those weeks where you feel like you have accomplished nothing? School was completed, but as the week progressed, there was some fight in getting her to do some things. Next week is going to be lighter, with a little bit of a break. I did accomplish things, but when I gaze around the house I am overwhelmed with what needs to be done. So any things that I did, seem so small in comparison to what actually needs to be done. Sorry I'm rambling, I think I am just trying to motivate myself.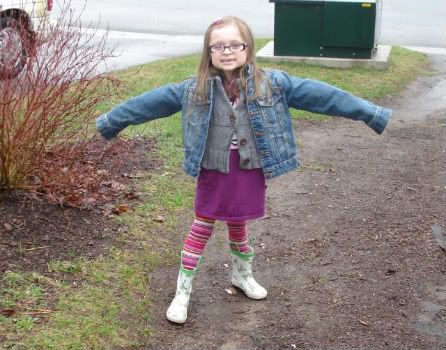 Out enjoying the cool, wet weather.
Phonics this week had us up to lesson #123 in
The Ordinary Parents Guide to Teaching Reading
. We worked on ou, oy and oi sounds. After each phonics lesson we read a lesson from McGuffey's First Eclectic Reader. These are nice and short, but tie in a variety of sounds we have been working on. I noticed this week that she was able to sound out a few words that were 2 syllables like sunset, supper, after and carrot. This is a big step for her since only a few weeks ago she sounded out pretty much every cvc word she read. In spelling she passed her test with her only mistake being she wrote her d's as b's in the word did. After she passed the test we finished lesson 16 this week (actually one page left for tomorrow because she was being crabby today).
This was 2 seconds before she moved a rock from the corner that had a family of ugly bugs under it. She screamed and ran into the house quickly.
In math we are still working on double facts plus one, and counting and regrouping money in lesson 86 in Saxon Math 1. She was sitting quietly the other day so I asked her what was wrong. She said that she was trying to figure out how many more days until we visited Nana and Grandpa. She got the answer right and I was impressed that she was able to figure out the names of days in proper order while counting them at the same time.
Art class began again this week, which she was looking forward to. Class was smaller this time around, but most of the kids that are in it were the same as last time which was nice to see. They made a painting of a pond and added animals they made from a variety of supplies. I would have posted a picture but the painting was left to dry at the class.
We started our Nallenart French L'art de Dire this week. She wanted to start as soon as we got it even though technically it is for next year. I like it, it is short and easy. We repeated the same lesson everyday this week and it literally only took 5 minutes at a time. I read the lesson, go over the words/phrases and explain them. We listen to the audio pronunciation and then we practice. We did the greetings Bonjour, Je m'appelle, Comment t'appelles-tu?, Comment vous appelez-vous?, and Au Revoir. I am excited to see how this program works long term.
We finished our Mary Poppins read aloud this week and it was funny to have her question the differences between the movie (which is one of her favorites) and the books. The differences are vast, so there were a lot of interruptions during reading time. Tonight we are starting Pinocchio which I am a little apprehensive about because of the mixed reviews.
After being put away for awhile because she wasn't treating it properly, I finally let Roo have her Fisher Price Smart Cycle back. She was on it so long that when I came back in to the room she added some padding to the seat 'because her butt hurt'.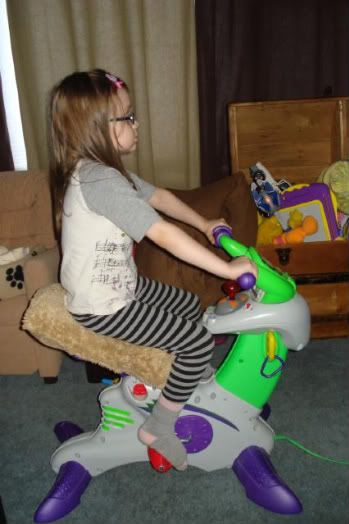 A pillow for the butt!
On another note, I am on lesson 28 in
Getting Started with Latin
. I am really liking Latin, this book was a great way to introduce myself to it. Thank you for the recommendations on the WTM Forums. I am determined to become fluent in another language (French possibly) and I can really see how Latin will help that. If it wasn't so expensive I would take a night course at the college (or online through the College) for French I, as an additional learning tool. Maybe I will save up for the end of summer time because they have courses starting every 2 months or so which makes it a lot more convenient.
I intend to post my Year at a Glance Spreadsheet this week (maybe;), all I need is to reconfigure it to fit the columns better. I might not have a Weekly Report next week, but I will definitely be reading them.