Although it is technically still Friday, I always feel so late posting. Especially when you see other posting weekly reports Thursday, friday morning etc, all way before I even think about it. This was our week back after a nice break to visit my parents last week. I think she was on over stimulation mode this week though, because it was hard to get her back into the groove. I'm tired and it is really stuffy hot in here so I'm sure this will be short and to the point. Roo lost her second tooth last week with a little help from her Nanny;)
Here she is displaying her two missing teeth while wearing headphones to ignore me.
We are on lesson #128 in the
OPGTR
Phonics and we have really slowed down in order to try to get these rules to stick. I honestly don't think I even realized how many rules there really were until I opened this book. She has been reading a few pages of Green Eggs and Ham by herself everyday and the sounding out is getting less and less. With Spelling Workout A we finished lesson 16 which still has easy enough words to spell that she hasn't had any wrong on her spelling test/review yet. I get immense satisfaction from seeing the growth like the words she struggled with last month are now offering no issues.
In an earlier post I decided that we were going to stop with the Saxon Math. I picked up workbooks last week and decided we will use those over the summer until the next year begins and we stat Singapore. It wasn't worth the fight or tears anymore and it was frustrating for both of us.
This was week two for L'art de Dire for us and it is enjoyable and short. At the beginning of the week we go over a new concept and then we repeat and practice is everyday. It usually takes about 5 minutes and there is a review of last weeks stuff as well. This week were learned introductions and the use of he and she. Il s'appelle, Elle s'appelle, Comment s'appelle-t-il and Comment s'appelle-t-elle. The book comes with flash cards to use and as I held each one up, she then had to tell me if it was Il s'appelle or Elle s'appelle and then say the name of the person on the card. It was fun.
In front of the library posing with the first fully bloomed flowers I have seen this season.
In art class this week she made a wooden spoon person that had a bottle body and various things for decoration. She chose to give it clown features (cut from a magazine), feather wings and a halo (which she lost). I think she called it a fairy clown. I call it a little bit creepy:)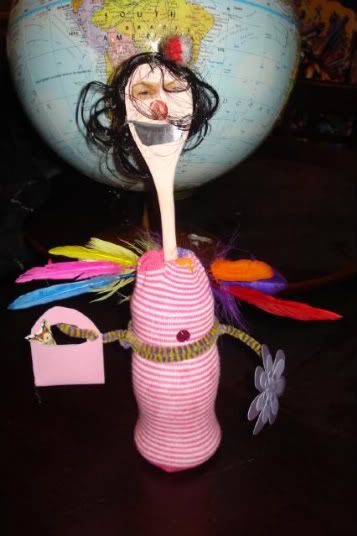 I just got a call to say my book I ordered from inter library loans came in and I am excited to read it to Roo. It is book one of a three books series on evolution. This one is called
Born with a Bang
by Jennifer Morgan.
Book two is on order because who knows how long it will take for it to arrive.