This week started off with an early morning dentist appointment for Roo. A passport photo redo after the dentist, followed by a trip to the library. Roo has her first loose tooth. It is so loose the dentist said it is hanging in the breeze. I can see the adult tooth breaking the skin behind it, but she won't let me try to get it out. So I guess we have to wait.
For phonics this week I decided to try a different approach to change things up a bit. We do our daily lesson from The Ordinary Parents Guide to Teaching Reading, do review by using
Blend Phonics
lessons and we do readings from
McGuffey's First Eclectic Reader
. The variety lessens the monotony and it feels like we are doing less but learning more although we are spending more time on phonics than we did in a single sitting before. We are on lesson 110 in the OPGTR and lesson 12 in the Spelling Workout A. Next week I will start doing a weekly spelling tests with the list words because we have now reached words that are harder for her to spell. This first bit seemed more of a review of words we have been working with and reading often (aside from a few new words).
In math this week we finished 4 lessons and one review using Saxon 1. She learned about dividing objects in half, subtracting half of a number, and graphing the pieces used to cover a design. She caught onto subtracting half of a number quickly and could apply the graphing lesson to the worksheet easily. She really likes the math fact sheets where she gets to be the teacher. They are already completed with a mixture of correct and incorrect answers and she has to mark the sheet and write the correct answer beside the wrong ones. She even asks to do these when it is not school time for some reason.
The sheets she uses and pretends she is a teacher.
Today she fell and hurt herself. She declared today would be school in bed day because she couldn't walk.
The books we used for school in bed day.
In geography this week we did a small overview of South America, it's location, the oceans surrounding it and what types of foresty and animals are located there. We fell off the science/history wagon a bit so I decided before I continue with our pre history studies we would learn about evolution. We read a short picture book called What Mr. Darwin Saw. It was a brief story of how Charles Darwin came to his thoughts of evolution. It was cute, short and easy to read/understand. Next week we are starting a book called Evolving Planet which will allow us to delve deeper into the subject. After we complete this book I will continue with the pre history studies, it should make more sense by that point.
It was our last art class for this semester and she was sad. It starts again in the middle of April though. We were debating putting her in the next age group because her teacher said she would be fine for it. She is enjoying this class though, so I think what we will do is one more semester with this age group and then we will put her in the next level in September. It is a longer class and at a better time, so it doesn't have any effect on the school day.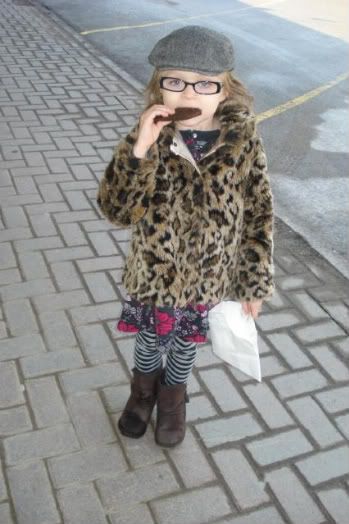 Early morning chocolate cookie before art class.
After art class, thinking and waiting for the bus.
Finally we have gotten the
MusIQ Homeschool
piano lessons working. We have officially begun them and she seems to really enjoy it. The lessons are broken down in to 5 sections. First you go through the actual lesson with a cartoon version of Beethoven (I think the composer changes over the different lessons). They explain and walk you through it. Next you go to the practice room Mrs. Melody to go over what was learned, then off to play the reinforcing games. After that you go to the improvisation room where you can try to make your own songs/music using a variety of instrument sounds or you can try to play along with several pieces of music ranging in difficulty. The last portion is going through the written lessons which involve colouring pages, activities and worksheets. This was a easier and cheaper way to do piano lesson for us since she can do this program any time of the day and whenever she wants to.
MusIQ Homeschool lesson one with Beethoven.
All in all the week went well. I try to incorporate about an hour of DS playing time daily with her eye patched in order to exercise the weaker eye. I just need to find some educational games (for younger kids), so if any of you have an recommendations I would appreciate it.
DS eye exercises. No complaints from her:)