It was cold and snowy weather this week. We got hit by a nice big snow storm on Wednesday that closed many parts of the city down. My husband took a snow day, so we ended up having one as well.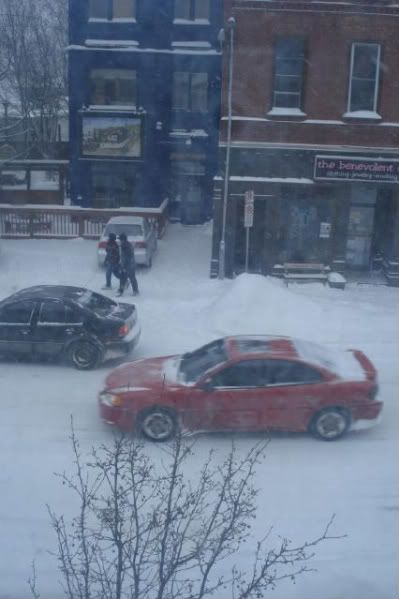 This is from our window about mid afternoon and it kept on snowing overnight. The blue building across the street makes awesome Eggs Benedict, which is convenient because it is my favorite food to eat. My motto is "Everything is better with Hollandaise sauce".
So with all this snow now, I don't have any winter boots. My husband puked on/in mine and he still owes me a new pair. Now that the winter weather is more than halfway done though I have decided I will accept a new pair of non winter boots in their stead. So honey, if you are reading this I dig
this style
in a size 8. I like all of the colours but probably would get more use out of black. Plus, they are on sale right now.
This week in review:
Memory Work - The Canadian Provinces and Territories are now memorized and we have added a science list and terms.
Phonics - We have finished lesson 216 in OPTGR. We are getting close to being done and I hope she doesn't get stuck and stall out over the next few lessons.
First Language Lessons - Lesson 54, we are on action verbs.
In this lesson she had to read the sentences and underline the verbs.
Writing with Ease - Completed week 17 of copy work and narration exercises.
Latin (Song School Latin) - We learned some more Christmas words as well as did a big review of the whole year.
French (Nallenart) - We started words that are found on a farm. I need to buy some more lamination supplies though so I can finish the flash cards for these terms.
Math (Singapore Math) - I added a bunch more new math facts and we have begun addition of numbers higher than ten by making a 10 first. It's a slow process but I think she is grasping the concept.
History (Story of the World) - We finished chapter 17 The Return of the Assyrians and read about Ashurbanipal and Nineveh. She made a book for Ashurbanipal's Library in Nineveh and used so much glitter I had to do 3 sweeps of the floor to get it all up.

Science (Elemental) - We have now entered the studying of reptiles. This weeks animals included a snake which she hates. She didn't want to read about them until I pulled up some videos on YouTube of snake charmers. She thought that was kind of neat and relaxed a little bit. We also watch a video of the Australian Frilled Lizard running which she howled and laughed at.
Composer Study - We listened to more works by Henry Purcell and watched some YouTube videos of people and orchestras playing his pieces.
On the WTM this week there was a thread about typing programs and Angela from
Satori Smiles
recommended
Dance Mat Typing
which we tried this week and Roo loved it. So thank you Angela!