We had a 4 day week this week because Wednesday we went to Walmart. You know how easy it is to lose a full day in Walmart;) This week Merle started to cut her first tooth. She is a champ, I didn't even know until I felt it when she started to chew on my finger. Roo's top two front teeth are almost ready to come out as well. I am happy that they have finally become loose, since looking at the chipped one has been giving me mommy guilt for the last 4.5 years. When Roo was two she climbed onto a kitchen chair to sit beside her dad while he was on the computer. She began to wiggle in her seat and somehow managed to wiggle right off and land on her face. The result was a chipped front tooth that makes me feel terrible every time I see it.
Last week I had surprise photos from Roo taking pictures of herself and this week I have a funny video she made of her sister. It's not the video that is funny, but the song she is singing during filming after she made me put Merle into a sparkly fairy costume.
Now on to what we finished this week.
Memory Work - I added parts of a flower to the list to coincide with what we are learning in science.
Spelling (All About Spelling) - She finished Level 2 lesson 3 this week. The use of y as a vowel.
First Language Lessons - Daily review
Writing with Ease - Completed week 35 of copy work and narration exercises from The Wind in the Willows. One week left in this and the book is done!
Latin (Song School Latin) - Review
French (Nallenart) - We learned about time, how to ask for time and how to answer.
Math - Using our abacus we did 2 pages of Math Mammoth 1B each day and one exercise from Singapore Math a day too. We continued with math facts online using XtraMath.
She is plugging along and each day more go into the mastered list. This only takes about 5 minutes a day.
History (Story of the World) - We completed Ch 35 Caesar Fights the Celts, Caesar Crosses the Rubicon, Caesar and Cleopatra, and The Death of Caesar. We also read about Caesar in the Famous Men of Rome book and have begun Cleopatra by Diane Stanley.
Science (Elemental) - In our plant study this week we looked at Fruit, Why Plants Have Fruit, and Seeds.
Geography - Every day she reviews her Canadian provinces and territories as well as Western Europe via Sheppard Software.
I just got my copy of The Core from the Library and am avidly reading the geography chapter so we can begin our five circles and continent blobs.
Merle has mastered the skills of the Old Man face this week. She sucks in her lips and this is the result.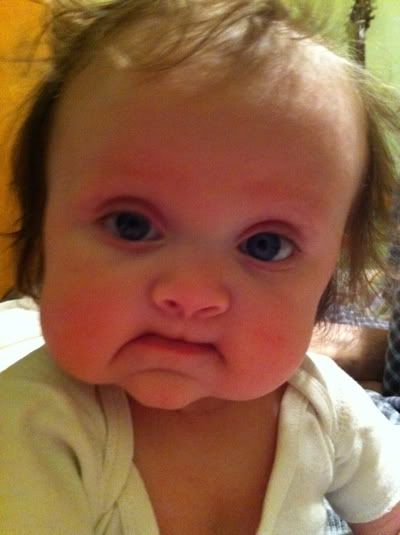 These are my thoughts on curriculum for next year (grade 2). Some of these I already have on my shelves.
Language Arts
Handwriting Without Tears Cursive
Math
History
Story of the World 2 - Middle Ages
Activity Guide for SOTW 2
Science
Elemental Science Earth Science and Astronomy
Geography
Foreign Language
Art and Composer Study
Art - Usborne Art Treasury book and picture study I put together and maybe I will sign her up for a weekly art class.
Composer - a study I will put together (presumably one composer a month from the middle ages period)